Pathogenesis of viral infections of the developing and adult central nervous system

Coordinators: D. Dunia / C. Casper
Scientific Objectives
---
Our team investigates the mechanisms and consequences of viral infections of the adult and developing central nervous system. Using several DNA and RNA viruses (notably Bornavirus, Zika virus and Cytomegalovirus), we study in particular: the impact of viral persistence on neuronal activity and plasticity, as well as on neuronal epigenetics; the impact of infections on neuronogenesis and neuronal differentiation, using a model of human neural stem cells (NSCs); the gene profiling or analysis of the secretion of soluble factors by infected NSCs or primary neuronal cultures; the modalities of congenital infection by the placental route, in collaboration with the neonatology department of Purpan university hospital.
AXIS 1: Viral interference with neuronal homeostasis
---
As obligatory parasites, viruses have evolved strategies to persist efficiently in their hosts. In the case of the central nervous system, viruses often achieve persistence while causing minimal damage to neurons, which have only limited capacities of renewal. Viral persistence, however, can cause brain dysfunction and cause disease, as a result of the selective interference with signaling pathways that are crucial for proper central nervous system (CNS) homeostasis.In our laboratory, we study the model of Borna disease virus (BDV) because it which provides an ideal paradigm for studying the behavioral correlates of CNS viral infections. The current projects of our team deal with: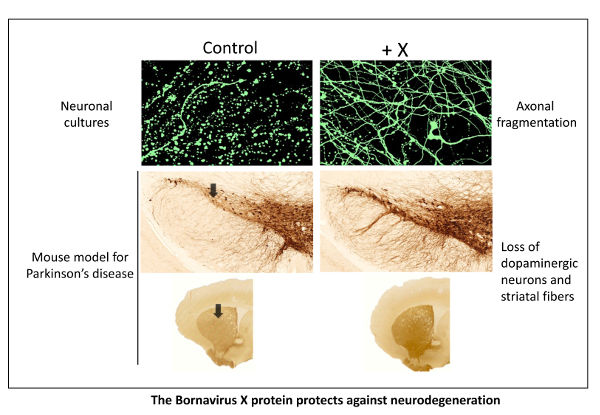 1. The analysis of the impairment of neuronal plasticity due to BDV infection. We showed that it results from interference with Protein Kinase C (PKC)-dependent signaling and that the BDV phosphoprotein (P) is the viral determinant mediating this interference, by serving as a PKC kinase decoy substrate when expressed in neurons. Moreover, our recent data show that isolated expression of P in the brain also impairs neuronal function and behavior.
2. The analysis of the potential of the BDV X protein and of X-derived peptides, to protect against neurodegeneration, even outside of the viral context. Control of cellular apoptosis is indeed a strategy often used by viruses to limit cellular damage. We showed that the BDV X protein has a clear neuroprotective effect in vitro, by acting at the mitochondrial level and by altering mitochondrial dynamics. This protection has also been observed in vivo in a mouse model of Parkinson's disease. We are now exploring the possibility to use the X protein (or X-derived peptides) as novel treatments for neurodegenerative diseases. In parallel, we are studying the mechanisms of protection conferred by the X protein, notably its impact on mitochondrial physiology and dynamics.
3. The development of new methods for the detection of neuronal activity at the single-cell level, in collaboration with physicists from the LAAS-CNRS laboratory (Toulouse). We use nanowire (NW)-based devices to interface nanoelectronic devices with living neurons to address the impact of pharmacological agents and virus-derived proteins on neuronal activity.
Head : D. Dunia
AXIS 2: Impact of pathogens on neuronal epigenetics
---
We are interested in the study of neuronal epigenetics and its deregulation during infection. Different projects are developed:
1. Interaction of Bornavirus (BDV) with histone acetylation in neurons and its consequences for behavior. Recent work from our team indicates that BDV alters histone acetylation in neurons due to the interference of a viral protein, the phosphoprotein, with cellular histone acetyl transferase activities. We are now exploring the consequence of this epigenetic dysregulation for neuronal function at genomic, transcriptomic and behavioral level, notably by developing transgenic mouse models, which will be used for ChIP-seq, RNAseq and behavioral studies.
2. Regulation of MeCP2 stability and chromatin dynamics by its phosphorylation. MeCP2, which mutations are responsible for the neurodevelopmental Rett syndrome, is a chromatin-interacting protein, highly abundant in neurons, implicated in the regulation of gene expression. We are interested in the study of two unexplored MeCP2 parameters: its stability and its dynamic interaction with chromatin in live cells, and the impact on its phosphorylation on these parameters.
3. DNA double-strand breaks response as a novel epigenetic process in neurons: roles and mechanisms in cognition, aging and neuroinflammatory diseases. Epigenetic alterations impact neuronal function, as they cause durable changes of the chromatin structure that affect gene expression. In this context, DNA double-strand breaks (DSBs) are emerging as central regulators of neuronal epigenetics. We are interested in deciphering the mechanisms whereby DSBs affect neuronal function and in understanding how perturbations in sensing, production and/or repair of DSBs may underlie the behavioral impairment that is observed in many inflammatory, infectious, or age-related diseases affecting the CNS.
Heads : C. Malnou – E. Suberbielle
AXIS 3: Congenital viral infections and impact on the developing brain
---
Congenital infection by human cytomegalovirus (HCMV) is the leading cause of brain lesions (hearing loss, mental retardation, microcephalia…) in newborns (0.1% of all births).

We investigate the outcomes of HCMV infection on human neural stem cells (NSC). We have shown that HCMV infection triggers the activity of the transcription factor PPAR gamma (PPARg), which impairs in vitro neuronogenesis. Our results have been validated by the immunohistological examination of brain samples from infected fetus. We now characterize the target genes for PPARg upon NSC infection by HCMV, including a gene known to be critical for brain development. We also investigate the outcomes of placental infection by HCMV on NSC homeostasis, using an original disease model based on ex vivo infected human placental explants combined with NSCs.
Our work aims at a better knowledge of the pathogenesis of HCMV infection, both in the placenta and central nervous system.
In addition, our know-how enables us to investigate the outcomes of other congenital infections, such as Zika virus and its impact on brain development.
Heads : S. Chavanas – C. Casper
Publications
2021
Small extracellular vesicles from placental histocultures infected by Cytomegalovirus: how to combine requirements of virology, physiology and cell biology studies? Conference
ISEV Infectious diseases meeting; Virtuel, ISEV Infectious diseases meeting; Virtuel 2021.
Human cytomegalovirus infection is associated with increased expression of the lissencephaly gene PAFAH1B1 encoding LIS1 in neural stem cells and congenitally infected brains Journal Article
Journal of pathology, 2021.
2020
Human cytomegalovirus infection changes the pattern of surface markers of small extracellular vesicles isolated from first trimester placental histocultures Journal Article
BioRxiv, 2020.
Apport de la cytométrie en flux dans l'étude des exosomes placentaires : pré-requis aux études de leurs effets biologiques Conference
Congrès de l'Association Française de Cytométrie; Virtuel Communication orale, 2020.
2019
Impact of human Cytomegalovirus congenital infection on placental extracellular vesicles secretion and consequences on fetal brain development Conference
Congrès de la Société Française des Vésicules Extracellulaires; Nantes, 2019.
Imprinted microRNA gene clusters in the evolution, development, and functions of mammalian placenta. Journal Article
J. Front Genet, 2019.
2018
Hippocampal expression of a virus-derived protein impairs memory in mice Journal Article
Proc Natl Acad Sci U S A, 115 (7), pp. 1611-1616, 2018, ISSN: 1091-6490 (Electronic) 0027-8424 (Linking).
2017
Effect of tryptase inhibition on joint inflammation: a pharmacological and lentivirus-mediated gene transfer study Journal Article
Arthritis Res Ther, 19 (1), pp. 124, 2017, ISSN: 1478-6362 (Electronic) 1478-6354 (Linking).
2016
Histone acetylation in neuronal (dys)function Journal Article
Biomol Concepts, 7 (2), pp. 103-16, 2016, ISSN: 1868-503X (Electronic) 1868-5021 (Linking).
Neuronal retrograde transport of Borna disease virus occurs in signalling endosomes Journal Article
J Gen Virol, 97 (12), pp. 3215-3224, 2016, ISSN: 1465-2099 (Electronic) 0022-1317 (Linking).
Peroxisome proliferator-activated receptor gamma (PPARgamma) activation: A key determinant of neuropathogeny during congenital infection by cytomegalovirus Journal Article
Neurogenesis (Austin), 3 (1), pp. e1231654, 2016, ISSN: 2326-2133 (Print) 2326-2133 (Linking).
Manipulation of the N-terminal sequence of the Borna disease virus X protein improves its mitochondrial targeting and neuroprotective potential Journal Article
FASEB J, 30 (4), pp. 1523-33, 2016, ISSN: 1530-6860 (Electronic) 0892-6638 (Linking).
Zika virus in semen and spermatozoa Journal Article
Lancet Infect Dis, 16 (10), pp. 1106-7, 2016, ISSN: 1474-4457 (Electronic) 1473-3099 (Linking).
PPARgamma Is Activated during Congenital Cytomegalovirus Infection and Inhibits Neuronogenesis from Human Neural Stem Cells Journal Article
PLoS Pathog, 12 (4), pp. e1005547, 2016, ISSN: 1553-7374 (Electronic) 1553-7366 (Linking).
Aquaphilus dolomiae extract counteracts the effects of cutaneous S. aureus secretome isolated from atopic children on CD4+ T cell activation Journal Article
Pharm Biol, 54 (11), pp. 2782-2785, 2016, ISSN: 1744-5116 (Electronic) 1388-0209 (Linking).
2015
Borna disease virus phosphoprotein modulates epigenetic signaling in neurons to control viral replication Journal Article
J Virol, 89 (11), pp. 5996-6008, 2015, ISSN: 1098-5514 (Electronic) 0022-538X (Linking).
MicroRNA miR-21 attenuates human cytomegalovirus replication in neural cells by targeting Cdc25a Journal Article
J Virol, 89 (2), pp. 1070-82, 2015, ISSN: 1098-5514 (Electronic) 0022-538X (Linking).
Cytomegalovirus Infection Triggers the Secretion of the PPARgamma Agonists 15-Hydroxyeicosatetraenoic Acid (15-HETE) and 13-Hydroxyoctadecadienoic Acid (13-HODE) in Human Cytotrophoblasts and Placental Cultures Journal Article
PLoS One, 10 (7), pp. e0132627, 2015, ISSN: 1932-6203 (Electronic) 1932-6203 (Linking).
Human Cytomegalovirus Infection Dysregulates the Localization and Stability of NICD1 and Jag1 in Neural Progenitor Cells Journal Article
J Virol, 89 (13), pp. 6792-804, 2015, ISSN: 1098-5514 (Electronic) 0022-538X (Linking).
Borna disease virus phosphoprotein impairs the developmental program controlling neurogenesis and reduces human GABAergic neurogenesis Journal Article
PLoS Pathog, 11 (4), pp. e1004859, 2015, ISSN: 1553-7374 (Electronic) 1553-7366 (Linking).
DNA repair factor BRCA1 depletion occurs in Alzheimer brains and impairs cognitive function in mice Journal Article
Nat Commun, 6 , pp. 8897, 2015, ISSN: 2041-1723 (Electronic) 2041-1723 (Linking).
2014
A viral peptide that targets mitochondria protects against neuronal degeneration in models of Parkinson's disease Journal Article
Nat Commun, 5 , pp. 5181, 2014, ISSN: 2041-1723 (Electronic) 2041-1723 (Linking).
Bornavirus and target cells: An almost sincere friendship Journal Article
Virologie, 18 (4), pp. 187-200, 2014.
2013
Analysis of borna disease virus trafficking in live infected cells by using a virus encoding a tetracysteine-tagged p protein Journal Article
J Virol, 87 (22), pp. 12339-48, 2013, ISSN: 1098-5514 (Electronic) 0022-538X (Linking).
Neurons as targets for T cells in the nervous system Journal Article
Trends Neurosci, 36 (6), pp. 315-24, 2013, ISSN: 1878-108X (Electronic) 0166-2236 (Linking).
Physiologic brain activity causes DNA double-strand breaks in neurons, with exacerbation by amyloid-beta Journal Article
Nat Neurosci, 16 (5), pp. 613-21, 2013, ISSN: 1546-1726 (Electronic) 1097-6256 (Linking).
Production and purification of non replicative canine adenovirus type 2 derived vectors Journal Article
J Vis Exp, (82), pp. 50833, 2013, ISSN: 1940-087X (Electronic) 1940-087X (Linking).
2011
Neurons are MHC class I-dependent targets for CD8 T cells upon neurotropic viral infection Journal Article
PLoS Pathog, 7 (11), pp. e1002393, 2011, ISSN: 1553-7374 (Electronic) 1553-7366 (Linking).
2010
Protein kinase C-dependent phosphorylation of Borna disease virus P protein is required for efficient viral spread Journal Article
Arch Virol, 155 (5), pp. 789-93, 2010, ISSN: 1432-8798 (Electronic) 0304-8608 (Linking).
2009
Mutation of the protein kinase C site in borna disease virus phosphoprotein abrogates viral interference with neuronal signaling and restores normal synaptic activity Journal Article
PLoS Pathog, 5 (5), pp. e1000425, 2009, ISSN: 1553-7374 (Electronic) 1553-7366 (Linking).
Societal impact
---
Our research aims at a better understanding of the impact of viruses on the developing brain and on neuronal homeostasis and also of the pathophysiology of congenital viral infections. To this aim, we use two viral paradigms: the model system Bornavirus (BDV) and congenital infection by human cytomegalovirus (HCMV), which is a public health issue.
The remarkable features of BDV pathogenesis, notably its predominant tropism for limbic structures in the brain (cortex and hippocampus), constitute a fascinating model of viral interaction with the brain and make it a very valuable tool to gain insight on the pathogenesis of many human neurological diseases. A better understanding of the underlying mechanisms may provide new physiopathological clues for a better understanding of many human neurological diseases of unclear etiology.
The development of these projects is facilitated the gathering in the team of researchers, assistant professors and clinicians with leading and complementary expertise. Moreover, our connection with the neonatal department of the Children's Hospital of Toulouse and the maternity ward offers opportunities for translational research, from basic to patient-oriented research.
Alumni
Post-docs
Marion Szelechowski
Post-doc, 2009-2015
Now Post-Doc, CRCA Toulouse, France
Alexandre Bétourné
Post-doc, 2011-2014
Now Chief Medical Officer, Above and Beyond NB Atlanta GA, USA
Amine Benarbia
Post-doc, 2013
Now R&D Manager, NOR-FEED, Beaucouzé, France
Carine Duval
Post-doc, 2007-2010
Now looking for new opportunities
Valérie Duplan
Post-doc, 2005-2007
Now co-head, Flow cytometry and cell sorting platform, CPTP, Toulouse, France
Céline Monnet
Post-doc, 2003-2006
Now Head, Molecular Evolution group, LFB, Lille, France
Jeffrey Bajramovic
Post-doc, 1999-2003
Now researcher, BPRC, Rijswijk, The Netherlands
Students
Maude Rolland
Master and Ph.D. Student, 2012-2017
Now searching for postdoctoral opportunities
Cécile Ferré
Master and Ph.D. Student, 2012-2016
Now Student, Medical School, Toulouse, France
Leila Khajavi
Master Student, 2016-2017
Now Ph.D. Student, CPTP, Toulouse
Maïlys Mouisset
Master Student, 2016-2017
Now looking for new opportunities
Joao Proença
Erasmus student, 2015
Now Ph.D. Student, Porto University, Porto, Portugal
Emilie Bonnaud
Master and Ph.D. Student, 2011-2015
Now Post-Doc, H. Bourhy's lab, Pasteur Institute, Paris, France
Caroline Charlier
Master and Ph.D. Student, 2009-2013
Now Science and Technology teacher, France
Grégoire Chevalier
Ph.D. Student, 2008-2011
Now Scientific Officer – Associate Researcher, Pasteur Institute, Paris, France
Christine Prat
Ph.D. Student, 2005-2009
Now Business Developer, European Virus Archive project (EVAg), Protisvalor, Marseille, France
Elsa Suberbielle
Ph.D. Student, 2004-2008
Now Research Associate (CR CNRS), CPTP, Toulouse, France
Romain Volmer
Master and Ph.D. Student, 2001-2005
Now Assistant Professor, Ecole Nationale Vétérinaire de Toulouse, Toulouse, France
Aymeric Hans
Master and Ph.D. Student, 1998-2003
Now Team Leader, Laboratory for Equine Pathology, ANSES, Dozulé, France
Aline Taveira
Master Student, 2008-2009
Now Safety Data Associate, UBC, Geneva, Switzerland
Research Assistants
Marine Fraisse
Engineer 2016
Now Engineer, CRCT, Toulouse, France
Charlotte Foret
Engineer, 2010-2013
Now Engineer, INRA-ENVT, Toulouse, France
Collaborations
Within the Center

N. Blanchard (Team 8)
G. Martin-Blondel (Team 5)
J-M. Mansuy, J. Izopet (Team 6)
National
Team REMEMBeR, Centre de recherche sur la cognition animale (CRCA), CNRS UMR 5169, Toulouse (C. Florian, B. Guiard, C. Rampon).
Team MINDING, Centre de recherche sur la cognition animale (CRCA), CNRS UMR 5169, Toulouse (P. Belenguer, M-C. Miquel).
Unité de Mathématiques et Informatique Appliquées de Toulouse (MIAT), INRA UR875, Auzeville (M. Zittnicki).
Laboratoire d'analyse et d'architecture des systèmes, LAAS-CNRS, Toulouse (G. Larrieu, L. Nicu).
Inserm U 862, Neurocentre Magendie, Bordeaux (G. Le Masson).
Centre de Recherche ICM INSERM/UPMC UMR 975 – CNRS UMR 7225, Paris (S. Hunot).
Centre de Biologie Paris Seine (IBPS), CNRS UNMR 8256, Paris (J-M. Peyrin).
Institut des cellules souches pour le traitement et l'étude des maladies monogéniques, Unité UMR861-ISTEM, Evry (M. Peschanski, A.Benchoua).
Centre national de référence de l'infection congénitale à HCMV, service de virologie de l'hôpital Necker, Paris (M. Leruez-Ville).
International
Freiburg University, Germany (Pr. M. Schwemmle)
University College London, UK (Pr GP Schiavo, S. Debaisieux)
The Gorgas Memorial Institute for Health and Diseases, Panama city, Panama (S Lopez-Verges).
University of Victoria, Victoria, Canada (Pr. J. Ausio)
The Gladstones Institute, USCF, USA (Pr L. Mucke)
WuHan Institute of Virology, Wuhan, China (Pr MH Luo)
Neurotec Department, Karolinska Institute, Stockholm, Sweden (Pr C Sodeberg-Naucler)