Human immune-monitoring core
The human immune-monitoring core facility at Toulouse Institute For Infectious and Inflammatory Diseases (INFINITy, Inserm UMR1291 – CNRS UMR5051 – Université Toulouse III) specializes in the conservation and the characterization of human immune cells.
Our team
Head of the platform: Raphaëlle Romieu-Mourez, coordination of biobanks: Pierre Emmanuel Paulet, scientific director: Roland Liblau
BIOBANKING OF PBMC INCLUDING IN CLINICAL SITUATION AND ON FRAGILE SAMPLES
BIOBANKING OF LYMPHOID TISSUES
QUALITY CONTROLS ASSOCIATED WITH BIOBANKING
AUTOMATED COUNTING OF FRESH AND CRYOPRESERVED PBMC (CELLOMETER AUTO2000, BT20, CYTOMETRY)
PHENOTYPIC AND FUNCTIONAL IMMUNOMONITORING ON CLINICAL COHORTS
CYTOMETRY
ELISPOT
DOSAGE OF BIOMARKERS WITH THE MESO SCALE DISCOVERY TECHNOLOGY
INSTITUTIONAL LINK FOR REGULATORY REQUIREMENTS OF RESEARCH ON HUMAN PERSONS
We provide biobanks of PBMC, services and trainings in biobanking and human immunumonitoring in our technical facilities or those of the requesting team.
Our biobanks are available to investigators within INFINITy upon approval by the platform Steering Committee. Services and trainings are accessible to any research team from a public institution or a private sector.

The definition of a service is open and not "à la carte", depending on the needs of the requesting team. Continuity can be established between the team and the platform through trainings and interventions at intervals.

The services offered by the platform are detailed below on this page, some examples of which are:
Delivery of PBMC cryovials, 

Develop, optimize and validate new technologies, for instance 1)

PBMC biobanking based on magnetic depletion of erythrocytes and granulocytes and 2) new methods for counting complex immune populations,


ELISPOT and cytometric analyzes on clinical samples,

Inclusion of new immunological characterizations of our biobanks,

Quality controls on the biobanks of requesting teams,

Training in biobanking (PBMC, plasma, serum…),


Assays for biomarker quantification with the Meso Scale Discovery technology,

Establishment of partnerships with medical teams in teaching hospitals,

Declaration of a human tissue repository bank.
Requests for assistance by the platform be sent by email to imp.infinity@inserm.fr.
Services: biobanks, immune-monitoring and training
Healthy subject PBMC, plasma, DNA and lymphoid tissue biobanks
Healthy subject PBMC, plasma, DNA biobanking
PBMC are isolated from buffy coats provided by the "Établissement Français du Sang" (EFS) at the Purpan hospital in Toulouse, France
The PBMC bank is from adult volunteers donating their blood for a therapeutic use and who are recruited in the greater Toulouse – Occitania region. Donors reported feeling well and were evaluated in good general health by a doctor at the EFS. Each blood donation was monitored for the absence of permanent contraindication for blood donation (viral hepatitis, syphilis, HIV or HTLV infection)
The core facility provides frozen PBMC vials, each containing a minimum of 15 million PBMC. Plasma and DNA are also conserved for purposes of molecular analyses

Between 500 and 2000 ampoules are used each year for research on humans by INFINITy teams.

100 new donors are added annually to the biobank in order to reach a constant availability of at least 350 donors since 2015
At least 1 vial from each donor is thawed by the core facility and analyzed for PBMC recovery or viability. Other quality controls include the analysis of the production of interferon by memory CD8+ T cells.
PBMC are characterized for donor gender, age, blood type, HLA-A2 and HLA-B7 or -B8 expression, CMV and toxoplasmosis serology
PBMC request (only for INFINITy members): r- PBMC request to send to imp.infinity@inserm.fr
Healthy subject lymphoid tissue biobanking
One of the scientific collaborations between our institution and the Toulouse University Hospital is focused on the study of pediatric lymphoid tissues, which functions and cellular composition differ from peripheral blood. The tissues analyzed are surgical wastes from pediatric tonsils and thymus obtained with the agreement of families informed of the research.

The platform supervises the transfer of samples and their regulatory monitoring as part of studies within INFINITy
Immune-monitoring on patient clinical samples
We perform phenotypic and functional immunomonitoring on samples of patients followed at different University Hospital Centers in France. The samples reach us fresh or cryopreserved. For example, analyzes can include: functional analysis of the Th response, standardized immunophenotyping in collaboration with the INFINITy cytometry platform, standardized ELISPOT analyzes, optimization of biobanking and cryopreservation parameters, etc.
Studies are typically carried out in 2 phases:
1st phase of the project: development and validation of protocols, often based on biobanks of healthy subjects

2nd phase of the project: routine implementation of protocols on targeted clinical cohort
Samples from asthmatic children, patients with an infection with the hepatitis E virus, patients hospitalized following an infection with the Sars-CoV-2 virus, and patients with narcolepsy were thus studied by the plateau.
The duration of these analyzes is inherently variable, ranging from a few weeks to several months with, if necessary, the transmission of protocols and know-how procedures to the requesting teams.
Development and standardization of immune assays on human cells
We teach on our biobanking or immunomonitoring approaches to support research on clinical cohorts.
We participate in the study of new techniques and in the evaluation of intra- and inter-experimental variations, namely between experimenters and over time.
Examples include:
Quality controls of potentially fragile PBMC biobanks (for instance samples transported from other regions of France, patients with certain conditions that may affect blood cells)

Isolation of PBMCs from small volume blood samples for pediatric studies

Testing of PBMC isolation kits in comparison with conventional methodologies by Ficoll

Comparison of automated counting methods for fresh or cryopreserved PBMCs

Standardization of ELISPOT analyzes

ELISPOT ex vivo on fresh PBMC in comparison on cryopreserved PBMC

Development of multiparameric cytometric profiles in collaboration with the INFINITy cytometry platform
ELISPOT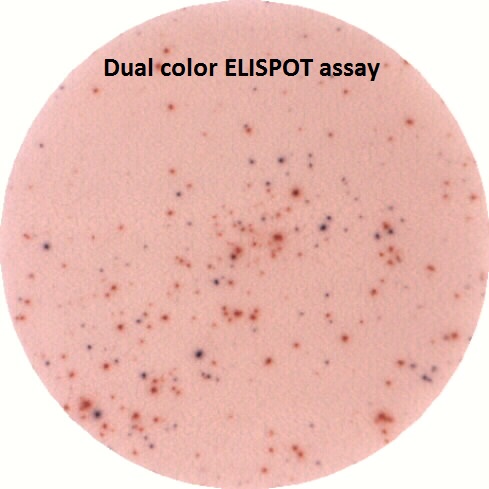 ELISPOT assay on PBMC from a patient hospitalized at the Hospital of Toulouse
The ELISPOT technology and reader are routinely used on the platform as part of fundamental or clinical studies, particularly in coordination with the Toulouse University Hospital. ELISPOT analyzes were included to the monitor effector memory responses specific for the hepatitis E virus, to evaluate the potency of RNA vaccines targeting Sars-CoV-2 in immune-suppressed individuals, to screen potential antigenic peptides, and to analyze antibody production.
We have an ELISPOT S6 Ultra-V analyzer from Cellular Technology Ltd:
Allows the reading of single or double color ELISPOT or single or double fluorescence. 

Fits all 96-well ELISPOT plates

Accessible without reservation
The design and realization of ELISPOTs and the use of the reader are offered by the platform in service and in training.
Quick Plex SQ120 for biomarker quantification (Meso Scale Discovery)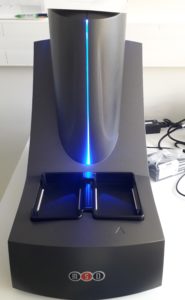 The Quick Plex SQ120 allows the assay of biomarkers with a technology based on electrochemiluminescence developed by the company Meso Scale Discovery.
The site https://www.mesoscale.com/ lists the hundreds of quantification possible in humans, primates and rodents, all of which are suitable for the Quick Plex SQ120:
The analyzes use several types of kits (R-plex, U-plex, T-plex, V-plex, S-plex) which all offer excellent linearity (5-log) and some the possibility of multiplexing (ex U- plex up to 10-plex)

Lower detection limits for U-plexes are generally around the picogram/mL. S-plexes, measuring 1 single analyte at a time, offer the gain of increased sensitivity with lower limits of detection commonly on the order of femtogram/mL

The analyzes can be carried out on various biological substrates such as plasma, serum, cell supernatant, tissue homgenates, cerebrospinal fluid….

The assays are carried out on complete or partial 96-well plates with less than 25microL of substrate by simple or duplicate assay
The platform offers support for the design and realization of the assays as well as the use of the reader, in connection with Meso Scale Discovery USA and France.
Network with hospitals and human research regulatory affairs
---
We act as a liaison with several institutions' departments of regulatory affairs to ensure that the center complies with the ethical and regulatory requirements for human research. Examples: writing of patient information sheets, informed consent forms, or administrative documents related to collections of human biological samples.
Examples include the setting up (ethics, administration and logistics) of transfers of human surgical wastes for research, the declaration of research patients with multiple sclerosis or narcolepsy.
Useful links to understand the rules of clinical research in France:
Steering committee
Scientific coordination: Roland Liblau
Steering committee:

Claire Cénac
Nathalie Jonca,
Emmanuel Treiner
Xavier Iriart
Florence Abravanel,
Claire Detraves
Nicolas Fazilleau
Loïc Dupré
Laurent Guilleminault