Human immune-monitoring core
The human immune-monitoring core facility at Toulouse Institute For Infectious and Inflammatory Diseases (INFINITy, Inserm UMR1291 – CNRS UMR5051 – Université Toulouse III) specializes in the conservation and the characterization of human immune cells.
Steering Committee
Claire Cénac (Team J-C. Guéry)
Maïlys Mouysset (Team M. Diaz)
Nathalie Jonca (Team M. Simon)
Emmanuel Treiner (Team A. Saoudi / R. Liblau)
Xavier Iriart (Team N. Blanchard)
Florence Abravanel (Team J. Izopet / B. Lagane)
Claire Detraves (Team J. van Meerwijk / O. Joffre)
Nicolas Fazilleau (Team N. Fazilleau / S. Guerder)
Loïc Dupré (Team R. Lesourne / L. Dupré)
Laurent Guilleminault (Team L. Reber)
BIOBANKING OF PBMC INCLUDING IN CLINICAL SITUATION AND ON FRAGILE SAMPLES
BIOBANKING OF LYMPHOID TISSUES
QUALITY CONTROLS ASSOCIATED WITH BIOBANKING
AUTOMATED COUNTING AND VIABILITY OF FRESH AND CRYOPRESERVED HUMAN IMMUNE CELLS
ELISPOT
BIOMARKER QUANTIFICATION USING ELECTROCHEMILUMINESCENCE (MESO SCALE DISCOVERY TECHNOLOGY)
PHENOTYPIC AND FUNCTIONAL IMMUNOMONITORING ON CLINICAL COHORTS
HUMAN RESEARCH INFORMATION AND REGULATORY REQUIREMENTS

We provide services and trainings in human biobanking and immune-monitoring. Our technical facilities and procedures allow the manipulation of human samples in diverse clinical settings, including infectious ones.
Services and trainings are accessible to research teams from a public institution or a private sector. Requests for assistance by the platform can be sent by email at imp.infinity@inserm.fr
In addition, we create and maintain healthy subject PBMC and lymphoid tissue cell collections for INFINITy internal use only.
PBMC, plasma, DNA and lymphoid tissue biobanking
---
Service of PBMC, plasma, DNA biobanking for external academic and private research teams
We provide project-specific biobanking and cryopreservation of human immune cell, including in clinical settings and on fragile samples. Quality controls are proposed on fresh and cryopreserved samples
Samples can be received, processed and cryostored by the platform before being shipped to the client's laboratory
In-house collections
Healthy subject PBMC, plasma, and DNA

PBMC are isolated from buffy coats provided by the "Établissement Français du Sang" (EFS) at the Purpan hospital in Toulouse, France
The PBMC bank is from adult volunteers donating their blood for a therapeutic use and who are recruited in the greater Toulouse – Occitania region. Donors reported feeling well and were evaluated in good general health by a doctor at the EFS. Each blood donation was monitored for the absence of permanent contraindication for blood donation (viral hepatitis, syphilis, HIV or HTLV infection)
The core facility provides frozen PBMC vials, each containing a minimum of 15 million PBMC. Plasma and DNA are also conserved for purposes of molecular analyses

Between 500 and 2000 ampoules are used each year for research on humans by INFINITy teams.

100 new donors are added annually to the biobank in order to reach a constant availability of at least 350 donors since 2015
PBMC are characterized for donor gender, age, blood type, HLA-A2 and HLA-B7 or -B8 expression, CMV and toxoplasmosis serology
Healthy subject lymphoid tissues
One of the scientific collaborations between our institution and the Toulouse University Hospital is focused on the study of pediatric lymphoid tissues, which functions and cellular composition differ from peripheral blood. The tissues analyzed are surgical wastes from pediatric tonsils and thymus obtained with the agreement of families informed of the research.
Single and dual ELISPOT and FLUOROSPOT
---
The design and realization of ELISPOTs and the use of the reader are offered by the platform in service and in training.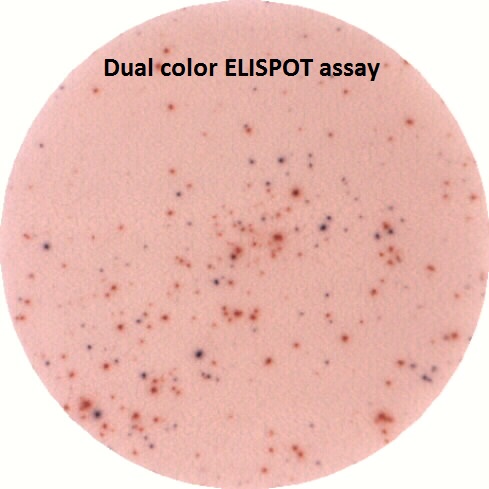 ELISPOT assay on PBMC from a patient hospitalized at the Hospital of Toulouse
The ELISPOT technology and reader are routinely used on the platform as part of fundamental or clinical studies, particularly in coordination with the Toulouse University Hospital.

We have an ELISPOT S6 Ultra-V analyzer from Cellular Technology Ltd:
Allows the reading of single or dual ELISPOT. Substrates are classically BCIP/NBT (blue) and/or AEC (red): spot forming cells appear blue, red, or dark purple depending on single or dual staining

Allows reading of single or dual Fluorospot. Filters are FITC (green) and/or PE (red):

spot forming cells appear green, red, or yellow depending on single or dual staining

Fits all 96-well ELISPOT plates
Biomarker quantification using electrochemiluminescence (Meso Scale Discovery)
---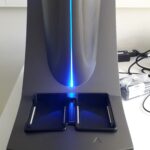 The use of the Quick Plex SQ120 reader and MSD technology is offered by the platform in self-service, training, or in some instances realization.
The Quick Plex SQ120 reader and MSD technology allow the quantification of a wide range of human and animal biomarkers (primates, rodents, dogs). The site https://www.mesoscale.com/ lists the hundreds of possible quantifications and multiplexes, all adapted to the Quick Plex SQ120:
The principle is the ELISA by replacing the colorimetric revelation by an electrochemiluminescence revelation which is sensitive because of the absence of interference between the electrical excitation signal and the light emission signal. We obtain a low limit of detection usually from picogram/mL to femtogram/mL and an excellent linearity (5-log), along with the possibility of multiplexing (eg U-plex up to 10-plex)

It is possible to adapt existing ELISA tests to electrochemiluminescence assay

The analyzes can be carried out on various biological substrates such as plasma, serum, cell supernatant, tissue homogenates, cerebrospinal fluid….

The assays are carried out on complete or partial 96-well plates, requiring less than 25microL of undiluted or diluted substrate by assay
Immune-monitoring on clinical samples
---
We propose the phenotypic and functional immunomonitoring on fresh or cryopreserved samples of patients.
Blood samples from asthmatic children, patients with an infection with the hepatitis E virus, patients hospitalized following an infection with the SARS-CoV-2 virus, and patients with narcolepsy were thus studied by the plateau.

Studies are typically carried out in 2 phases:
1st phase of the project: development and validation of protocols, often based on biobanks of healthy subjects

2nd phase of the project: routine implementation of protocols on targeted clinical cohort
The duration of these analyzes is inherently variable, ranging from a few weeks to several months with, if necessary, the transmission of protocols and know-how procedures to the requesting teams.
Development of human biobanking and immune assays
---
At request, we study new techniques in biobanking and immunomonitoring and we evaluate intra- and inter-experimental variations, namely between experimenters and over time and we teach our protocols.
Examples include:
Quality controls of fragile PBMC biobanks (for instance samples transported from other regions of France, patients with certain conditions that may affect blood cells)

Isolation of PBMCs from small volume blood samples for pediatric studies

Testing of PBMC isolation kits in comparison with conventional methodologies by Ficoll

Comparison of automated counting methods for fresh or cryopreserved PBMCs

Standardization of ELISPOT analyzes

ELISPOT ex vivo on fresh PBMC in comparison with cryopreserved PBMC

Development of multiparameric cytometric profiles in collaboration with the INFINITy cytometry platform
Human research information and regulatory affairs
---
We facilitate the administrative procedures incumbent on research teams to ensure information for patients and compliance with the ethical and legal framework of research on the human person. For projects promoted by the INSERM, we also make the link with the specialists in charge of regulatory affairs at the hospitals and the INSERM.
Examples of our services include the redaction of patient information sheets, informed consent forms, and administrative documents related to collections of human biological samples.
Useful links to understand the rules of clinical research in France:
Publications as authorship or contributorship by the platform
---
Immune-Monitoring on clinical cohorts; ELISPOT development
Humoral and Cellular Immune Responses of Solid Organ Transplant Patients on Belatacept to Three Doses of mRNA-Based Anti-SARS-CoV-2 Vaccine. Abravanel F, Marion O, Del Bello A, Beunon T, Romieu-Mourez R, Couat C, Pucelle M, Staes L, Guitard J, Esposito L, Faguer S, Kamar N, Izopet J. Vaccines (Basel). 2022 Feb 24;10(3):354.
Assessment of 4 Doses of SARS-CoV-2 Messenger RNA-Based Vaccine in Recipients of a Solid Organ Transplant. Kamar N, Abravanel F, Marion O, Romieu-Mourez R, Couat C, Del Bello A, Izopet J.JAMA Netw Open. 2021 Nov 1;4(11):e2136030. doi: 10.1001/jamanetworkopen.2021.36030.PMID: 34817587
Separation of the CaV 1.2-CaV 1.3 calcium channel duo prevents type 2 allergic airway inflammation. Giang N, Mars M, Moreau M, Mejia JE, Bouchaud G, Magnan A, Michelet M, Ronsin B, Murphy GG, Striessnig J, Guéry JC, Pelletier L, Savignac M. Allergy. 2022 Feb;77(2):525-539.
Circulating follicular helper T cells exhibit reduced ICOS expression and impaired function in narcolepsy type 1 patients. Nguyen XH, Dauvilliers Y, Quériault C, Perals C, Romieu-Mourez R, Paulet PE, Bernard- Valnet R, Fazilleau N, Liblau R. J Autoimmun. 2018 Nov;94:134-142
Conventional and innate lymphocytes response at the acute phase of HEV infection in transplanted patients. Abravanel F, Barragué H, Dörr G, Sauné K, Péron JM, Alric L, Kamar N, Izopet J, Champagne E.J Infect. 2016 Jun;72(6):723-730
PBMC, plasma, DNA and lymphoid tissue biobanking
Human papilloma virus-16-specific CD8+ T-cell expansions characterize different clinical forms of lichen planus and not lichen sclerosus et atrophicus. Viguier M, Pérals C, Poirier B, Battistella M, Aubin F, Bachelez H, Prétet JL, Gheit T, Tommasino M, Touzé A, Gougeon ML, Fazilleau N.

Exp Dermatol. 2023 Mar 15. doi: 10.1111/exd.14788

HIV-1 infection enhances innate function and TLR7 expression in female plasmacytoid dendritic cells. Abbas F, Cenac C, Youness A, Azar P, Delobel P, Guéry JC.Life Sci Alliance. 2022 Sep 2;5(10):e202201452. doi: 10.26508/lsa.202201452. Print 2022 Oct.PMID: 36271499
Effector memory CD8 T cell response elicits Hepatitis E Virus genotype 3 pathogenesis in the elderly El Costa H, Gouilly J, Abravanel F, Bahraoui E, Peron J-M, Kamar N, Jabrane-Ferrat N, Izopet J PLoS Pathog. 2021 Feb; 17(2): e1009367
Hydroxychloroquine inhibits proteolytic processing of endogenous TLR7 protein in human primary plasmacytoid dendritic cells. Cenac C, Ducatez MF, Guéry JC. Eur J Immunol. 2022 Jan;52(1):54-61.
TLR7 dosage polymorphism shapes interferogenesis and HIV-1 acute viremia in women. Azar P, Mejía JE, Cenac C, Shaiykova A, Youness A, Laffont S, Essat A, Izopet J, Passaes C, Müller-Trutwin M, Delobel P, Meyer L, Guéry JC. JCI Insight. 2020 Jun 18;5(12):e136047.
The costimulatory molecule CD226 signals through VAV1 to amplify TCR signals and promote IL-17 production by CD4+ T cells. Gaud G, Roncagalli R, Chaoui K, Bernard I, Familiades J, Colacios C, Kassem S, Monsarrat B, Burlet-Schiltz O, de Peredo AG, Malissen B, Saoudi A. Sci Signal. 2018 Jul 10;11(538):eaar3083.
TLR7 escapes X chromosome inactivation in immune cells. Souyris M, Cenac C, Azar P, Daviaud D, Canivet A, Grunenwald S, Pienkowski C, Chaumeil J, Mejía JE, Guéry JC Sci Immunol. 2018 Jan 26;3(19).
High-Dimensional Single-Cell Analysis Reveals The Immune Signature of Narcolepsy. F.J. Hartmann, R. Bernard-Valnet, C. Quériault, D. Mrdjen, L.M. Weber, E. Galli, C. Krieg, M.D. Robinson, X-H. Nguyen, Y. Dauvilliers, R.S. Liblau* & B. Becher*. J. Exp. Med. 2016 Nov 14;213(12):2621-2633
Contact, requests and booking
– In order to access the in-house biobanks for teams and platforms at Infinity, send us by email one of the request forms available on the intranet, respecting the deadlines and procedures indicated on these forms.
– To use the Quick Plex SQ120, book online https://www.infinity.inserm.fr/reservations/ (section "Appareils") and indicate if the thermoshaker will be borrowed.
– The other equipments are accessible without booking.
Protocols and technical booklets
PBMC isolation and cryopreservation
PBMC thawing
Fresh and frozen human immune cell counting (BT20 counter, Cellometer auto2000 counter, LUNA-FL counter, cytometry)
ELISPOT technology to numerate effector memory T cells
Booklet "ELISPOT reader"
Booklet "Introduction to Meso Scale Discovery technology and Quick Plex SQ120 reader for the dosage of biomarkers"